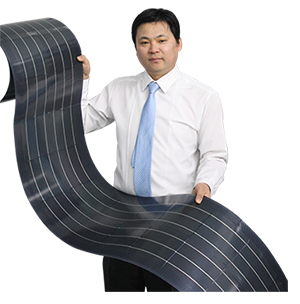 SolarFLEX Ltd. has participated in the 2013 New Hope flexible CIGS thin film solar cell market.
We are a specialized venture company to manufacture solar cells with a lightweight, flexible low cost.
Second-generation CIGS thin film solar cell commercialization is the goal (The previous generation crystalline silicon and differentiation)
Crystalline silicon firms are currently experiencing difficulties And Everyone think all the solar market pessimism. However, the solar market will be forever as long as there is sun.
Differentiated technologies (flexible CIGS thin film solar cells), differentiated continuous mass production technology roll-to-roll (Roll-to-Roll) technology and differentiated business (Local generation -> micro generation) and will be targeted.
Pioneering a stable solar cell manufacturing market, we plan to ensure a successful business.
Ltd. SolarFLEX will develop the core technology of flexible CIGS thin film solar cells with continuous research and development and challenge.
We will be the best company for the 21st century, for the people in the solar market. Let generous investment and effort in developing new technologies and markets to be the most respected companies in the world.
Above all, I think the people first, as the skills you need to go with someone promises to customers.